Guided Self-Care Journals
A new themed self-care journal is delivered to your doorstep each month! Filled with science-backed prompts and coaching exercises, trackers, and planner pages. Plus, our exclusive app with audio affirmations and community events.
Select your plan:
Starts with Janauary journal

Delivered monthly, Renewed monthly
Quarterly Plan - $19.95/mo
Starts with Janauary journal

Delivered monthly, Renewed quarterly
Starts with Janauary journal

Delivered monthly, Renewed annually
Our Annual Members Get Extra Perks
89% more likely to achieve goals
Membership concierge
Unlimited virtual classes and events
Free shipping, always
ADD THE DECEMBER JOURNAL AND GET STARTED SOONER!
Add for only $24.99 $10.99
Available Offers
FIVEOFF
5% off on monthly or quarterly
FREEMONTH
One free month of annual
Ships FREE within one business day!
INCLUDED IN YOUR SUBSCRIPTION
Monthly Wellness Planners

Daily / weekly / monthly calendar spreads, trackers for habits, moods, meals, and more, journaling prompts and evidence-based exercises.
21-Day Journaling Program

Guided audio reflections to build the journaling habit and boost moods.
Members-Only Community and App

Personalized prompts, affirmations, and peer-to-peer support.
Community Events

Virtual classes and workshops to get the most out of your membership.
View full details
5 Minutes A Day Into Your Existing Routine
Less than $1/day to unlock your hidden potential.
TAKE A PEEK INSIDE
Guided Journaling Helps Unlock Greater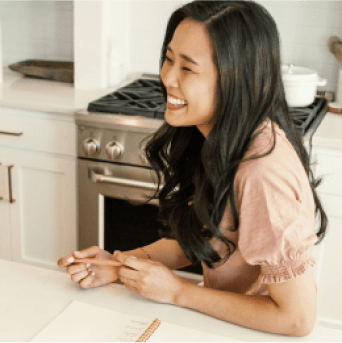 Journaling Reduces Stress
Clinical psychologists say that bringing pen to paper helps alleviate anxiety and stress, increase IQ and memory, and heal trauma. Sharing your self-care journey with others helps reinforce the growth mindset and positive habit stacking - leading to transformational results.
START TODAY
MEMBERS LOVE US
Over 1 Million Journals Delivered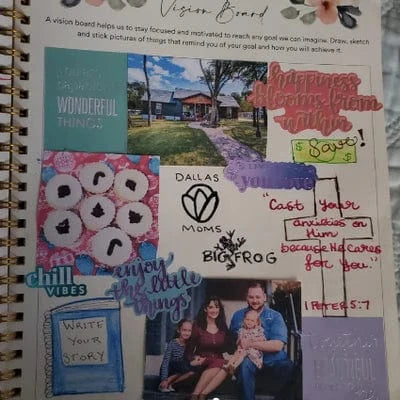 CHANGING MY LIFE FOR THE BETTER!
These journals in 3 months have changed my life for the better! Not only do I get a fresh start on my goals each month (right around where I usually start straying from them) but I am held accountable for them each day.
I am tracking my small and large goals and in 3 months have made HUGE progress on a long term goal I have had for years! I would highly recommend these journals to anyone and everyone!
---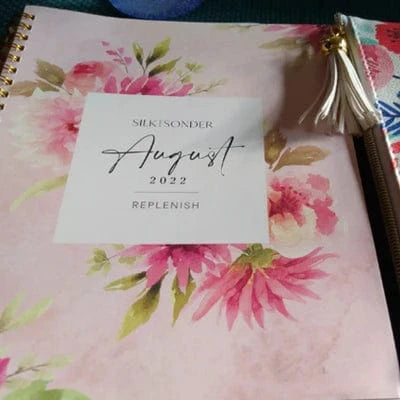 LOVE ALL THAT THIS JOURNAL STANDS FOR!
It has been a highlight of my day! It grounds me and centers me to keep focused on my goals. With its lovely layout and the accompanying app, I do feel supported along the journey of life!
---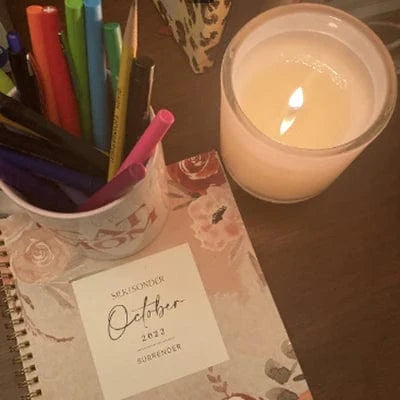 LOVING THIS
Thank you, Sonder Fam, for helping me get back to myself. For helping me prioritize in a holistic way by nurturing what matters to my soul and by encouraging me to tackle day-to-day tasks no matter how big or small.
---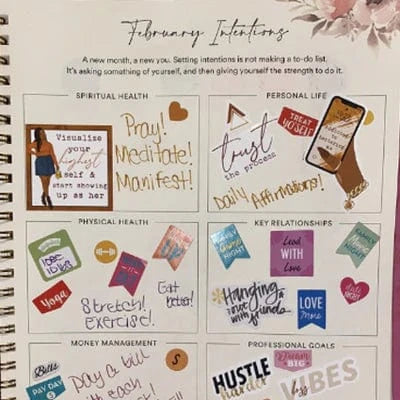 ABSOLUTELY LOVE IT!
It really just helps me with life!!! Helps with creativity. Goals. Habits. I look forward to my daily/weekly/monthly task.
---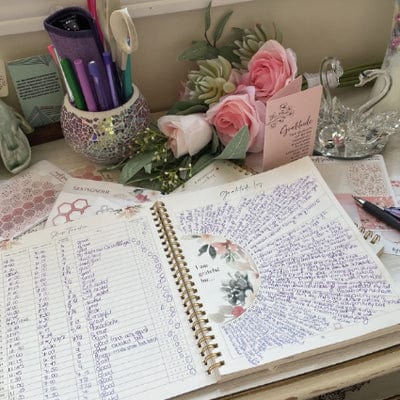 THANKFUL
So thankful to have discovered Silk + Sonder. Journeying through each month has helped bring clarity, focus, and peace back to my chaotic days. It is the perfect blend of beauty, planning tools, and a place to play, create, and dream! 💞
---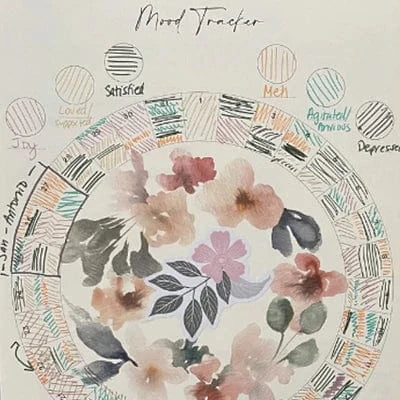 TRULY LIFE CHANGING IN JUST A FEW MINUTES A DAY
The first month I did the set-up, a little tracking and the coloring page. I added full habit and mood tracking, as well as gratitude in month two. This month I've added more, and now use the sleep and spending tracking, as well as some of the weekly pieces. I love Sonder Socials, love the app and community, and most importantly love the 15-ish minutes a day I devote to myself by reflecting in my S&S each night and the Sonder Socials I join every week/couple of weeks!! Thank you for giving me the tools I needed to prioritize even just a little "me time" each day!!
---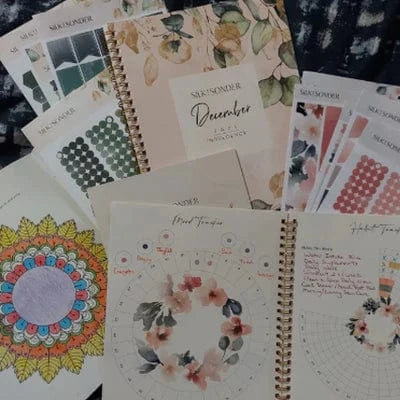 MORE THAN JUST A PLANNER
I'm very impressed with this. It's so much more than just a planner. It's a guide to help you embrace a whole new lifestyle and a happier you. I'm so glad I invested in this and myself.
---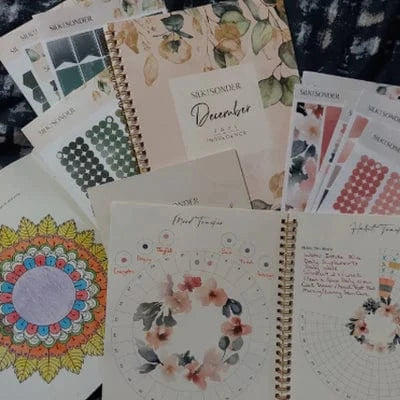 I HAVE REALLY ENJOYED MY EXPERIENCE
I never knew how fun and enlightening a planner could be. And the bonus was I could also be creative while setting goals.
---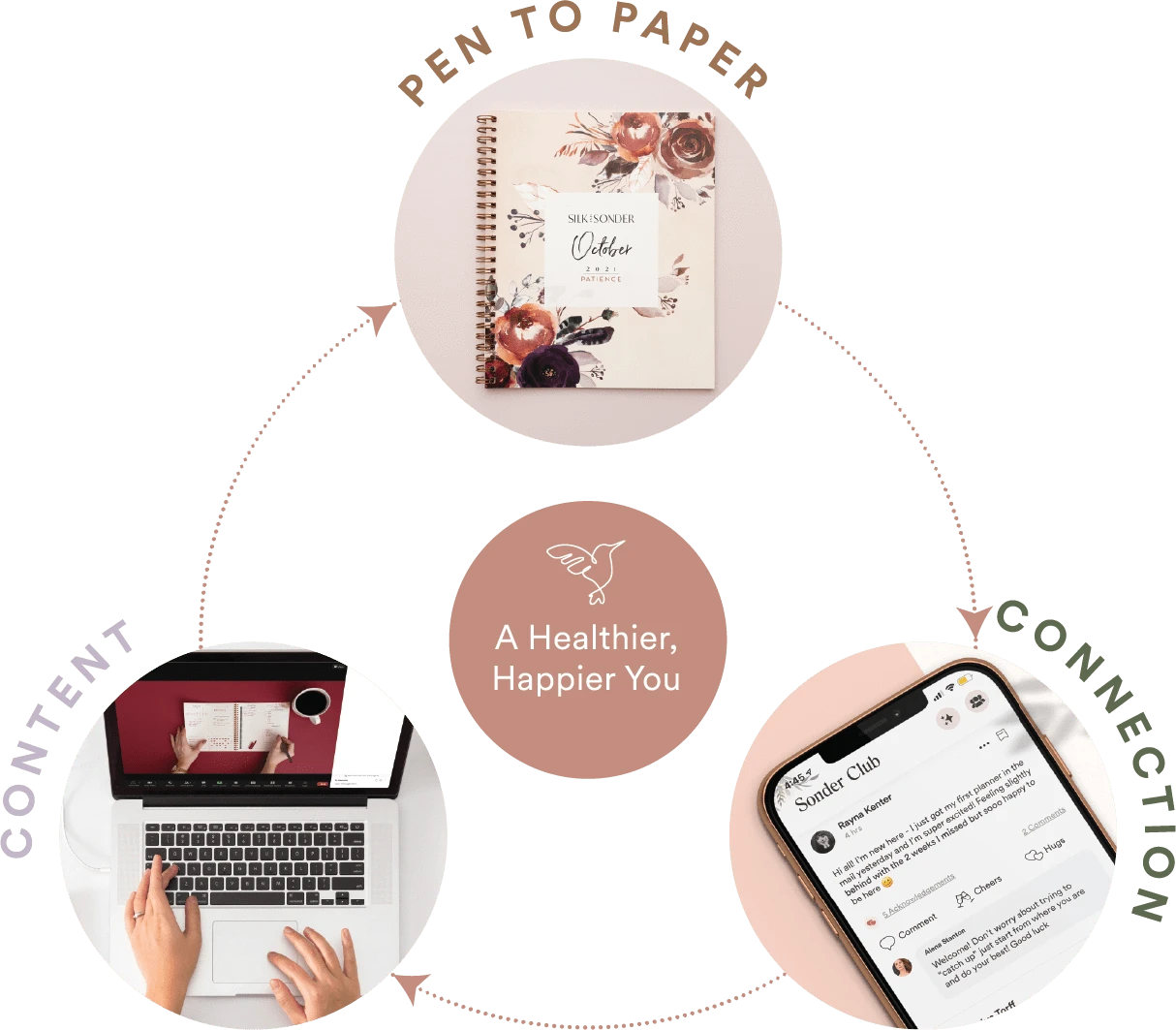 Why It Works
Our proven, holistic approach to self-care makes the path to a happier, healthier you easy and fun. All you have to do is show up.
Feel joyful and accomplished
Find accountability buddies
Inspire creativity and action
START TODAY
What makes us special?
We're not just another planner that sits on your shelf to rot. We're Silk + Sonder.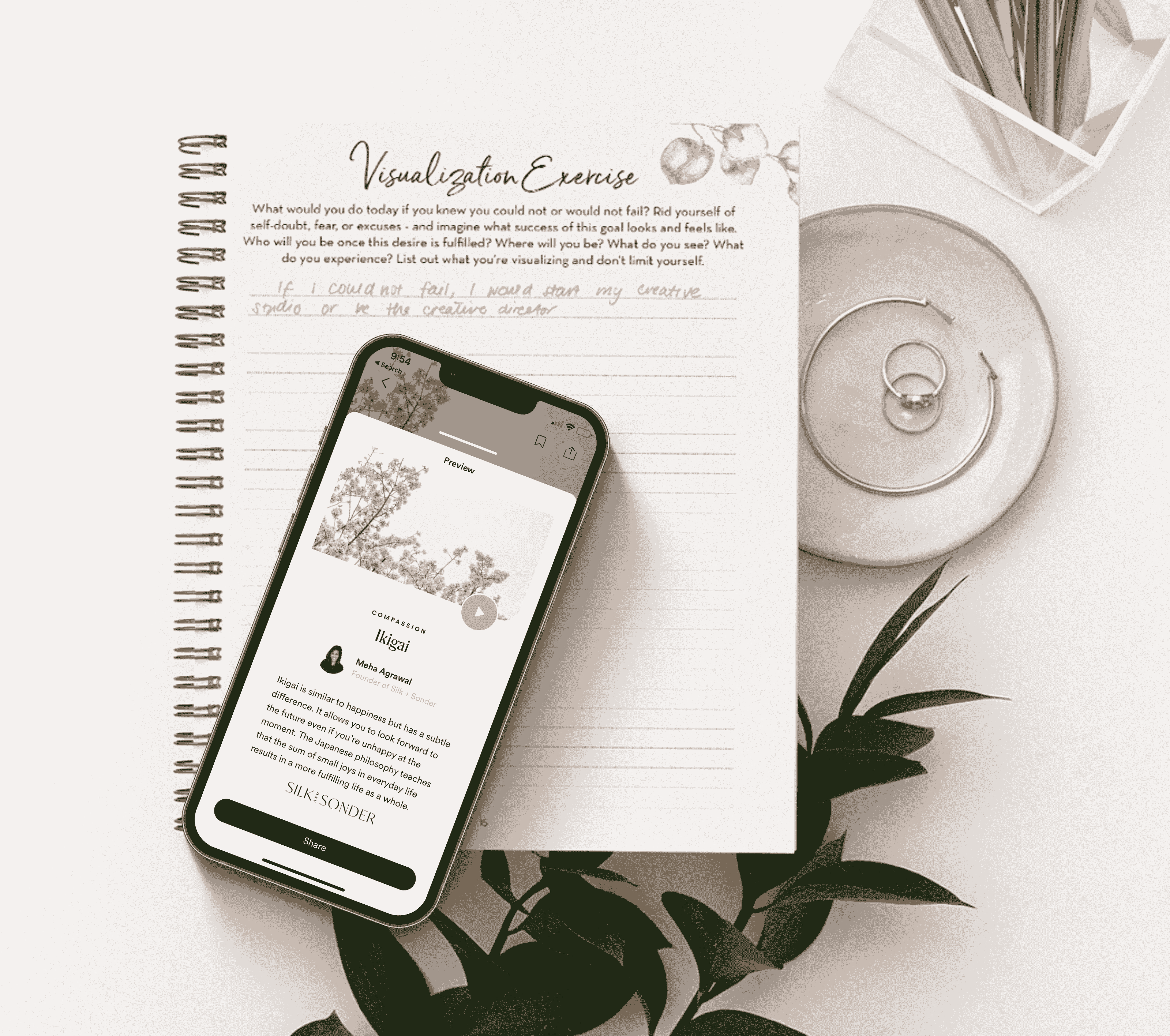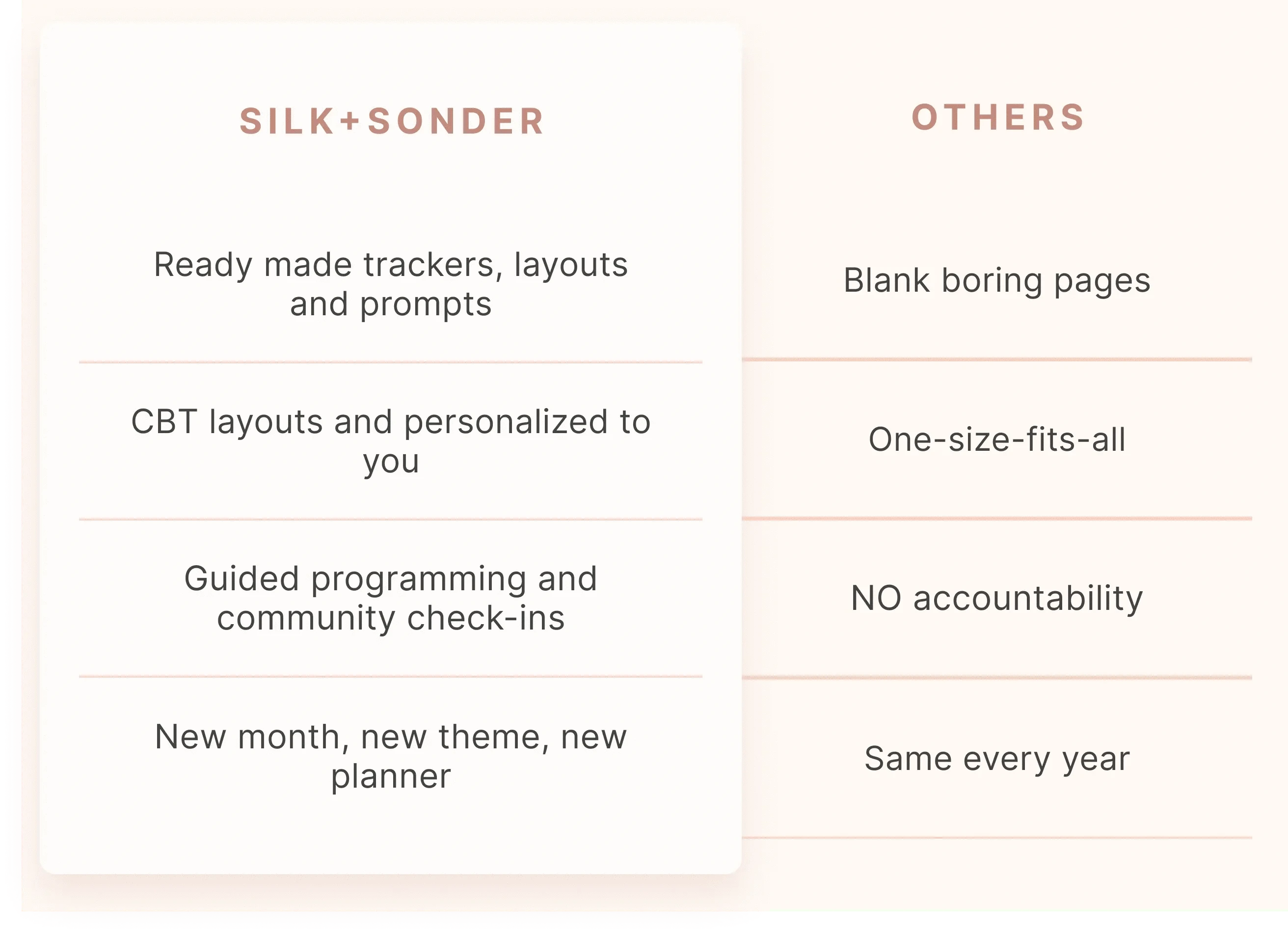 Collapsible content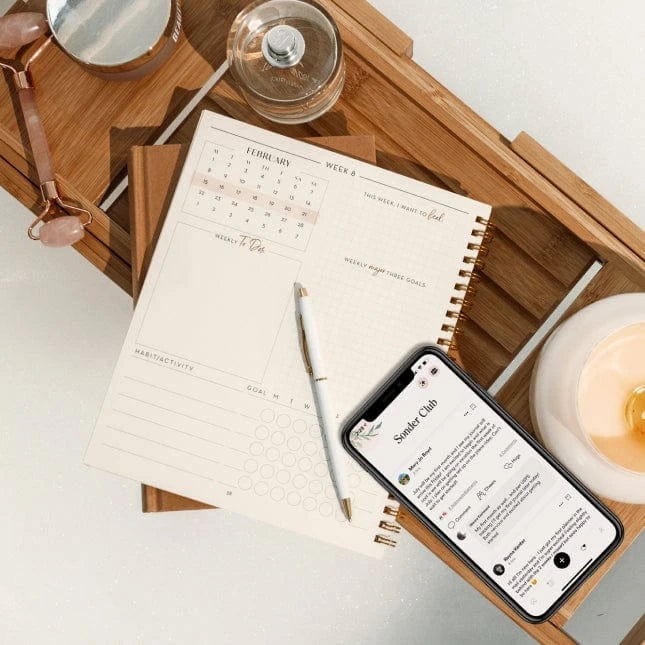 Planner Details

Dimensions: 7" x 8.5", 56 pages
Paper Weight: 100# cover, 70# pages
Gold Wire-O Binding (Lay-Flat Pages)
Collectible artisanal covers
New theme, new aesthetic every month
Ready made bullet journal layouts
CBT exercises
App Details

Sonder Club - members-only community
Daily Affirmations for positivity
Daily Rituals - guided audio journaling prompts
Question and Poll of the day
Seasonal Self-Care Bingos
More Than a Planner

Start afresh every month
Backed by science, powered by community
Easy accountability and peer-to-peer support
Guided audio programming to create long lasting positive habits
New themed prompts and layouts every month
Live events to connect with other members
Is every Silk + Sonder journal the same?

No - we keep things fun and delightful at Silk + Sonder :) But you will see consistency in our planning, tracking, and intention setting layouts.
Who has tried this approach?

Tens of thousands of customers in every state of the country
People seeking balance in their lives
People trying to reach their greatest ambitions
People trying to rekindle their creativity
No matter your goal, Silk + Sonder is right for you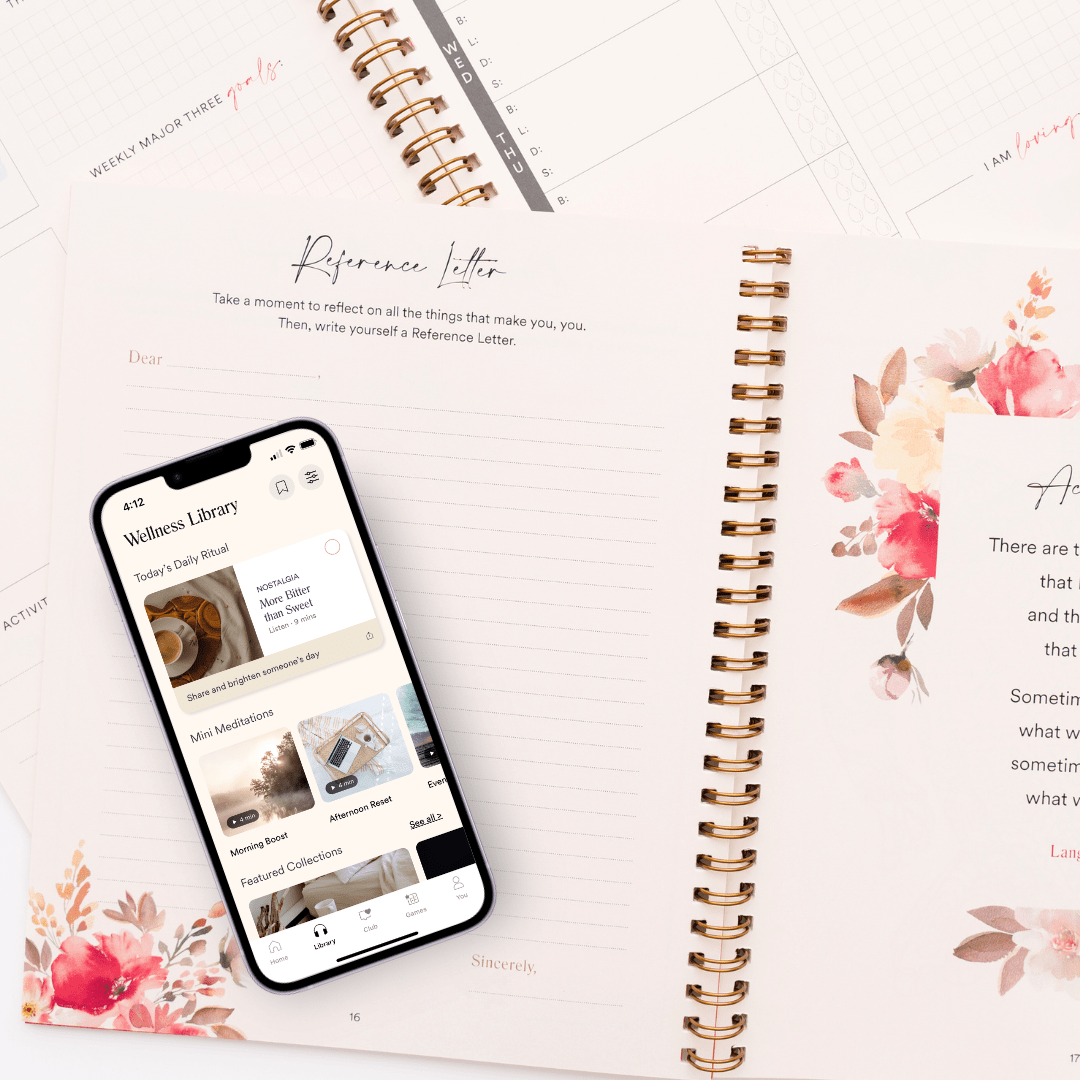 You Know Your Mind, We Know The Science
We integrate tools proven to improve personal wellbeing such as cognitive behavioral therapy, personal wellbeing, personal development frameworks, life coaching, and bullet journaling.
JOIN TODAY
Daily Self-Care, Goals, & Habits Made Easy
Select a Plan That Works For You

It takes 21 days to form a habit and 90 days to experience permanent change. Choose between our monthly, quarterly, and annual plans to get started in as little as 5 mins/day.

Get Started Right Away

While you wait for your first monthly planner to arrive, download our FREE app with how-to videos, inspiration and advice from the Silk + Sonder community, affirmations and more.

New Month, New You

Every month, you'll receive a new themed planner with prompts, coaching exercises, and habit trackers alongside fresh in-app content to explore new areas of yourself and build new skills.

Feel Results Within Weeks

95% of our surveyed members saw an improvement to their emotional health. Get ready to experience reduced stress, improved cognitive function, and heightened awareness.